Matrix
The Matrix gives the ability to quickly scan the market based off of any of the pre-built scans or custom scans.  To find out more about the available scans please click here.  To load the Matrix click on the tool bar button labeled Matrix   

 or click on File - New - Matrix.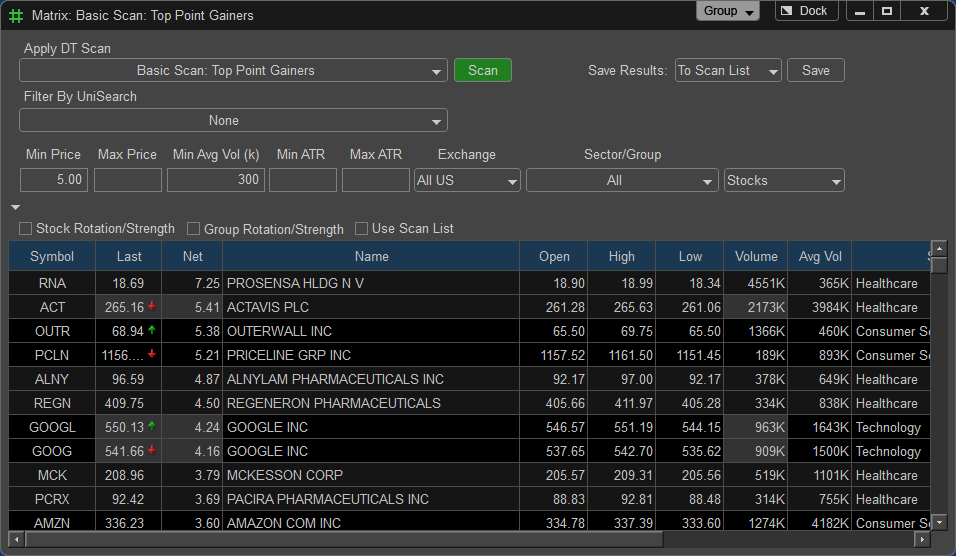 How to Apply a Scan
To apply a scan left click the drop down menu under Apply DT Scan or Filter By UniSearch and select the desired scan. Once a scan parameter is selected the scan automatically runs.  You can apply a UniSearch Filter to the Matrix Scan by selecting the Filter By UniSearch drop down menu.  To update the results click on the Scan button.
Matrix Filters
Minimum Price, Maximum Price, Minimum Average Volume (k), Min ATR, Max ATR, Exchange, Sector/Group and Stock Rotation.

 Using this option on the Matrix, enables the Matrix to be taken out of the main program window. It then can be moved and re sized anywhere on the screen. When the Page is saved the window(s) that are outside of the main program will be saved in those locations as well.

 This is what will be shown when a window is currently being 'Floated' outside of the main program window.  To return the window 'Floating' outside of the main window click on the Dock button.
Clicking this option will drop down the color link window and link the current window with any other window that is using the same colored link.
Matrix Results
Once results are found within the Matrix, you can either symbol link (as described above) the Matrix window with a Chart, Option Chain, Spread Select, Risk Graph, Option Skew, Group Rotation, Decay, and DT Projection Tool.  The other option is to right click on one of the symbol results the menu shown below will appear, from here just select the desired place to send the specified symbol.  This is a quick way of opening the symbol up in any of the other windows.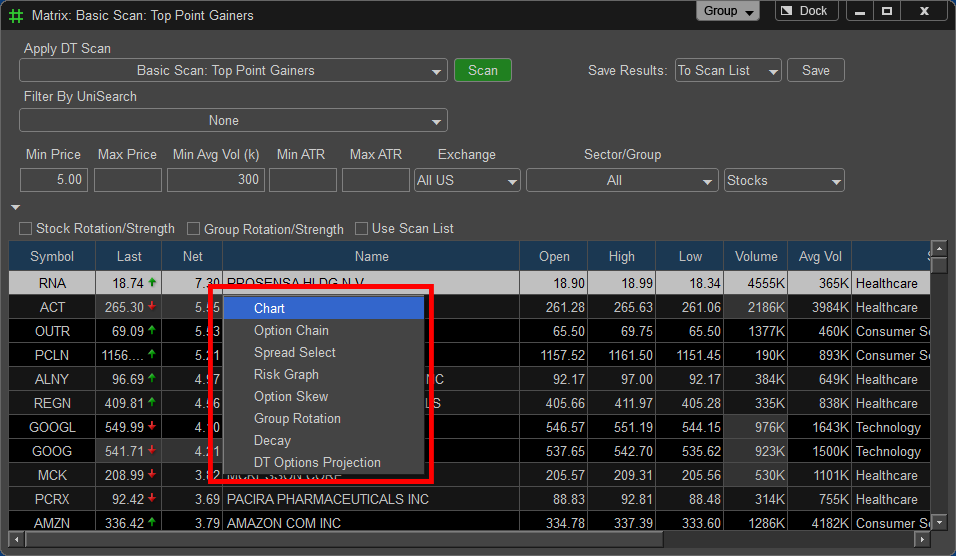 Saving Results
To save the scan results click under Save Results on To List File. If you save it to Scan List it will automatically populate the Custom List. The other options are to save it as an Excel, Text or List file.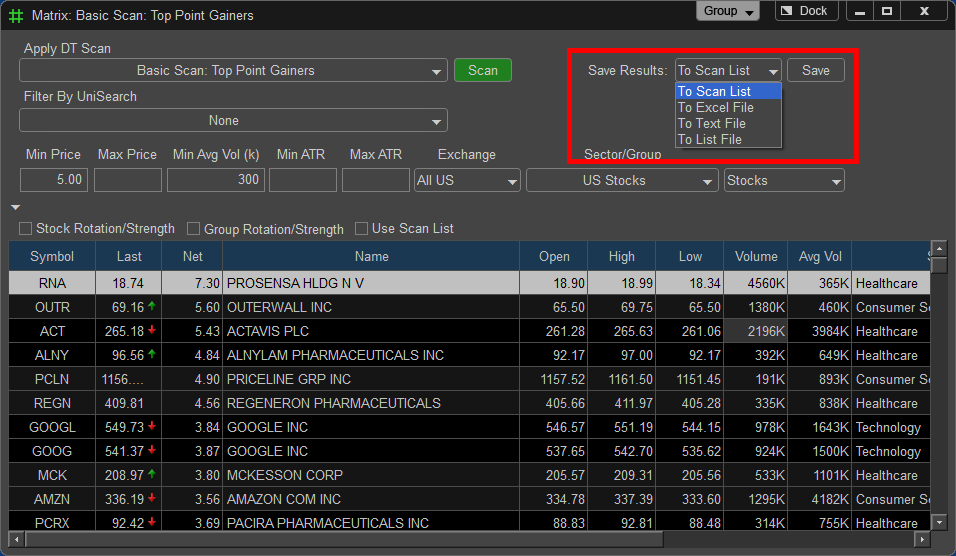 Advanced Filters
In addition to the main filters selected under Apply DT Scan and Filter By UniSearch the Matrix allows you to filter the results by Stock/Rotation Strength, Group/Rotation Strength, and Advanced Option Filters when the Matrix is set to scan for option contracts.  The Advanced Filters can be edited by opening the menus by left clicking on the arrow.